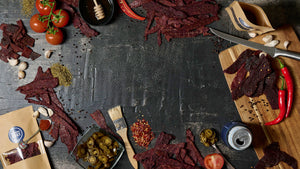 Hand-crafted
deliciousness
Australia's best tasting beef jerky, marinated with succulent flavours
Made irresistably snackable
1. Ready
Melbourne Jerky starts from preparing the beef in a slicer which creates a consistent thickness.
2. Set
We make them marinate it for a minimum of 12 hours to ensure maximum flavour.
3. Go
Finally, we cut it to a delicious bite size for perfect snacking.
How it all started
Melbourne Jerky started off as a hobby in 2016 making jerky for family and friends. After getting such positive feedback, it prompted the idea of making this more than a hobby and brought us to where we are today.